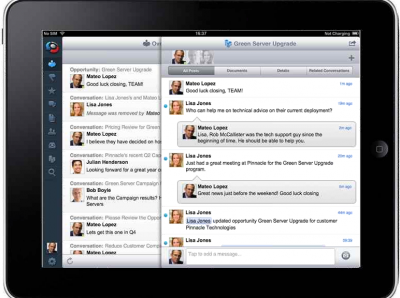 HRIT is looking at moving their on-premise software to a cloud solution to support the HR, managers and employee populations.  Why not use this opportunity to leverage new capabilities that are inherent in cloud HRMS products to improve employee engagement?
Complex work environments need to utilize tools that align corporate goals while creating a framework that supports efficient communication, such as internal social networking, talent review and the metrics to measure these outcomes.
Historically, performance management systems evaluated individual contribution for very specific tasks and competencies and did not achieve a direct correlation between business performance and performance rating.  Instead, new, tier-one cloud-based platforms utilize social collaboration tools that reward enterprise contributors through 360 degree feedback.  In addition, social networking tools that track "kudos" for employees provide a foundation that tracks when individuals deliver and contribute to initiatives that meet corporate goals and objectives.  Migrating to a cloud-based platform offers the ability to identify specific types of skills and competencies that drive business results, as well as reward systems that are in correlation with the company's bottom line and business strategy.
As millennial workers continue to enter the workforce, they require the tools they use personally to network and communicate with teams and projects within organizations.  These social tools can leverage knowledge and provide employees with a platform to communicate with other departments and teams on various efforts that are needed to meet the business objectives.   Why not create a social networking strategy as your company migrates to the cloud?
Tracking and measuring enterprise contributors requires input from various levels, groups and departments.  A solid measurement and analytic system is needed to reward and review these contributors.  Sophisticated gathering, analyzing and modeling tools are needed to give human resource and line managers necessary information in order to ensure that talent is rewarded, developed and engaged.  A tier-one cloud solution will include analytics to measure this talent!
These new HRMS platforms will require a specific roadmap that ensures the right approach to migrate to a new platform that will leverage human capital they way CEOs are demanding.  Use this opportunity to make a transformational debut for your Cloud HRMS platform and you will have very happy, engaged and aligned employees!